Our Curriculum
Elmley Castle C.E. First School recognises the huge importance of providing high standards of teaching and learning.
We aim to enable every child to flourish by providing a curriculum which is broad, relevant and meaningful, and one that is increasingly personalised based on individual needs.
If you require more information please contact Mrs Underwood via the office. Mrs Underwood is our Head of School and has key responsibility for teaching and learning.
As a core subject in our National Curriculum, mathematics at Elmley is taught every day in every class. Our children love maths because we approach the teaching of mathematucs in a variety of ways that make learning fun and exciting. We embody the principle aims set out by our government which ensure that all pupils:
become fluent in the fundamentals of mathematics so that pupils develop conceptual understanding and the ability to recall and apply knowledge rapidly and accurately
reason mathematically by following a line of enquiry, conjecturing relationships and generalisations
can solve problems by applying their mathematics to a variety of routine and non-routine problems with increasing sophistication.
Times Tables Problem Solving-Time Tables Rock Stars!
Practical Maths-Finding the perimeter of objects around us
ENGLISH
Writing
All children have daily Literacy lessons which link to our half termly topics. As a school, we take on some aspects of the 'Talk for Writing Approach'. A key feature for T4W is that children internalise the language structures needed to write through 'talking the text', as well as close reading. The exposure to exemplar model texts is really important because children will be 'magpie-ing' new vocabulary, phrases, structures and sentence types.
In order to see clear progression throughout the school we carry out whole school 'Big Writes' each half term. This is where we create an exciting writing stimulus aimed at all age groups. We love seeing the children getting exciting and inspired to write. Teachers then carry out half termly internal moderations and termly external moderations to ensure our pupils are on track. Celebrating our children's writing is what it is all about! As you can see from the image below 'Dragonology' we have a WAGOLL display board to show off our writing here at ECFS.
When travelling through our classrooms, you can expect to see:
English working walls
Good examples of our text type focus
English supporting toolboxes/ resources
New vocabulary targeted areas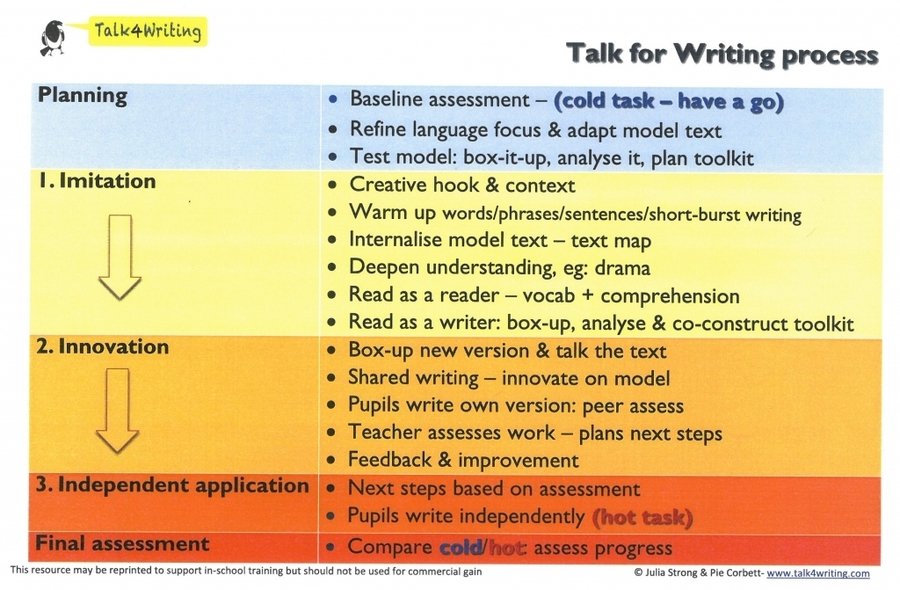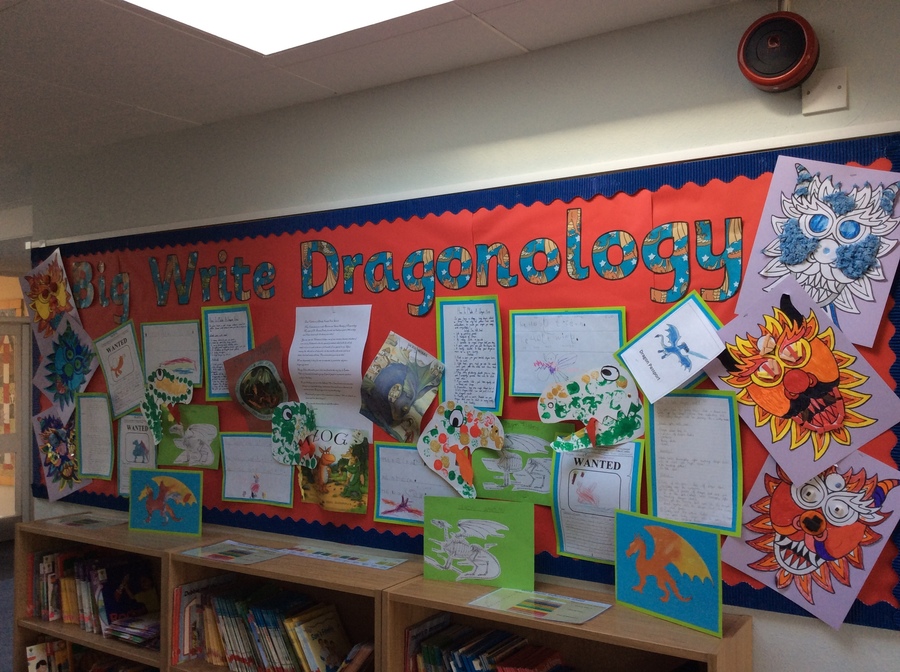 Vocabulary Development
Children's command of vocabulary is key to their learning and progress across the whole curriculum. Teachers will therefore develop vocabulary actively, building systematically on children's current knowledge to increase our pupils' store of words in general - whilst simultaneously encouraging children to make links between known and new vocabulary and discuss the shades of meaning in similar words. In this way, children will expand the vocabulary choices that are available to them when they write. It is particularly important to introduce children into the language which defines each subject in its own right, such as accurate mathematical and scientific language.
Spelling
Learning to spell is a highly complex skill but, in order for children to become successful writers, they need to be able to spell accurately. At ECFS, your child will be taught the rules and conventions of the spelling system as well as strategies needed to become confident spellers.
In Reception, Year 1 and Year 2, the children have daily phonic lessons where they learn phonemes and graphemes, spelling patterns and high frequency words.
In Years 3, 4, and 5, the children learn new spelling patterns as well as revising those already taught. Spelling is taught regularly each week where children look at phonics, spelling rules, root words, the meanings of words and other strategies to help spellings—such as mnemonics.
Teachers provide opportunities throughout the week for the children to practice and apply these rules. Apple and Elm class pupils are tested weekly.
Phonics and Spelling
We aim for all our children to develop a sound knowledge and understanding of letter sounds in order to give them the right tools for fluent reading skills. We use the Letters and Sounds phonic programme in the Early Years and KS1 which is supplemented with phonics play. 20 minute phonic sessions are carried out daily. Children are therefore grouped to their ability.
If you would like to encourage your child to practice their sounds at home, please take a look at the free games on the Phonics Play link below.
Reading
Here at ECFS we believe reading is one of the most important aspects of the school curriculum. If we can successfully equip our children with the skills to read, then they will have the very best opportunity to succeed in all other areas of the curriculum. Dr Seuss once said 'The more you read, the more things you know, the more that you learn the more places you go'.
In KS1 we prioritise independent reading and we aim to read with your child/children at least twice a week. In KS2 independent reading is not carried out as frequently but this isn't to say it is not as important. For most children at this stage, it is not learning how to read but more so learning to understand the content of which they are reading (please refer to the 5 pillars of reading'. Teachers assist in the choice of text for free readers to ensure they are benefiting from a wide range of text types. This is supplemented with class stories, group reading, mixed age group paired reading and library sessions.
Creating a love for reading is always a key priority at ECFS. As you travel around the classes you will be greeted with interactive 3D wall murals which display age appropriate authors and book covers linked to our topics. Reading areas in all classes are cornered off, containing soft seating it is the perfect place to switch off and have time out with a book.
With many of our teaching staff having busy family lives, we understand the pressures of reading with your child daily can sometimes become a burden. We therefore offer a 3 book policy:-
All children from Reception to year 3 (plus older children who benefit from extra phonetical interventions) have a phonetically decoadable book which they should be able to read independently.
All children will be given a colour band book which is mostly decodable but will expose your child to new subject specific vocabulary. Or a free reader text for those who have completed the colour band sequene.
All children will be given the opportunity to choose a book from their class reading area or the school library and we encourage these to be read by an older sibling or an adult.
Children are not expected to read all three texts each night but it makes it a more tailored approach.
We use PM Benchmarking and the book band colouring system to assess our children's reading. Here is a simple breakdown of what level your child should be currently at and where they need to be aiming for next.