Our Curriculum
Elmley Castle C.E. First School recognises the huge importance of providing high standards of teaching and learning.
We aim to enable every child to flourish by providing a curriculum which is broad, relevant and meaningful, and one that is increasingly personalised based on individual needs.
We aim to meet the needs of each and every child, ensuring they leave Elmley Castle able to read, write and handle numbers confidently. We aim to prepare children for our ever-changing world, by helping them to become effective thinkers, successful learners and adaptable, hard workers. It is our intention that every child will have extensive opportunities to develop their skills in the arts, music and sport.
On leaving Elmley Castle School we seek to ensure that every child is confident, polite and able to empathise. Equipped with Christian values, they will have the skills necessary to flourish in the next stage of their education and to become successful and responsible adults.
Our school is statutorily obliged to follow the 2014 National Curriculum. The core subjects are English, Maths, Science, RE and Computing. The Foundation Subjects are History, Geography, Music, Art and Design, Modern Foreign Languages (French), Physical Education and Design and Technology.
In order to give our children the chance to learn new skills and practice more established ones we teach these subjects in a cross curricular manner. This way of teaching enables children with different learning styles to access the subjects in a variety of ways.
The school is committed to enriching and extending the curriculum and children have the opportunity to go on visits to places associated with their areas of study. Visitors are invited into school to further children's knowledge and understanding in specific areas. Children in years 4 and 5 have the opportunity to take part in a Residential Week based around Outdoor and Adventurous Activities.
A comprehensive Curriculum Map and skills progression documents record how each curriculum area is covered in a balanced and progressive way throughout the school. Please see our curriculum overview page in the About Us section for more detail.
If you require more information please contact Mrs Underwood via the office. Mrs Underwood is our Head of School and has key responsibility for teaching and learning.
As a core subject in our National Curriculum, mathematics at Elmley is taught every day in every class. Our children love maths because we approach the teaching of mathematucs in a variety of ways that make learning fun and exciting. We embody the principle aims set out by our government which ensure that all pupils:
become fluent in the fundamentals of mathematics so that pupils develop conceptual understanding and the ability to recall and apply knowledge rapidly and accurately
reason mathematically by following a line of enquiry, conjecturing relationships and generalisations
can solve problems by applying their mathematics to a variety of routine and non-routine problems with increasing sophistication.
Times Tables Problem Solving-Time Tables Rock Stars!
Practical Maths-Finding the perimeter of objects around us
English
At Elmley Castle CE First School we believe that reading and writing, supported by speaking and listening skills are the key to successful learning. All children have a daily English lesson where key skills are taught, developed and improved. These skills are then used in other curriculum areas.
Phonics
We aim for all our children to develop a sound knowledge and understanding of letter sounds in order to give them the right tools for fluent reading skills. We use the Letters and Sounds phonic programme in the Early Years and KS1 and all the children have a daily phonics/spelling session based on this. Letters and Sounds teaches the children how to recognise sounds (phonemes) and build them to make words.
In the Early Years, children are taught to remember each of the letter sounds through story, action songs and a hand movements. We use a range of resources for this, to include, Jolly Phonics and Phonics Play.
If you would like to encourage your child to practice their sounds at home, check out the free games on the Phonics Play link below;
The following booklet gives an overview of how you can help your child develop the important skills needed to become a fluent reader.
Early Reading Booklet for Parents
Speaking and Listening
At Elmley Castle CE First School, teachers enrich the learning process by teaching the children how to engage in exciting, dynamic and practical Speaking and Listening activities. This is a key part of our studies across the curriculum.
Experiences may include:
Discussions with Learning Partners, debate, drama, role play, conscience alley, playing, circle time and many more.
Reading
Our aim is to enable every child to read well and to enjoy their reading. Throughout their time at Elmley Castle CE First School, the children will experience many different events and opportunities to read, such as World Book Day and Reading Challenges.
We have a great library packed full of rich and engaging non-fiction books and our children have unlimited access to a wide range of books and other reading materials. All children will be encouraged to read as much as they can. We use the Oxford Reading Tree Reading scheme alongside other publishers.
Writing
Children will be supported to develop the stamina and skills to write at length across the curriculum - with accurate spelling and punctuation. They will be taught the correct use of grammar. Children will be encouraged to build on what they have been taught to expand the range of their writing and the variety of the grammar they use. Writing will include narratives, explanations, descriptions, comparisons, summaries and evaluations.
Vocabulary Development
Children's command of vocabulary is key to their learning and progress across the whole curriculum. Teachers will therefore develop vocabulary actively, building systematically on children's current knowledge to increase our pupils' store of words in general - whilst simultaneously encouraging children to make links between known and new vocabulary and discuss the shades of meaning in similar words. In this way, children will expand the vocabulary choices that are available to them when they write. It is particularly important to introduce children into the language which defines each subject in its own right, such as accurate mathematical and scientific language.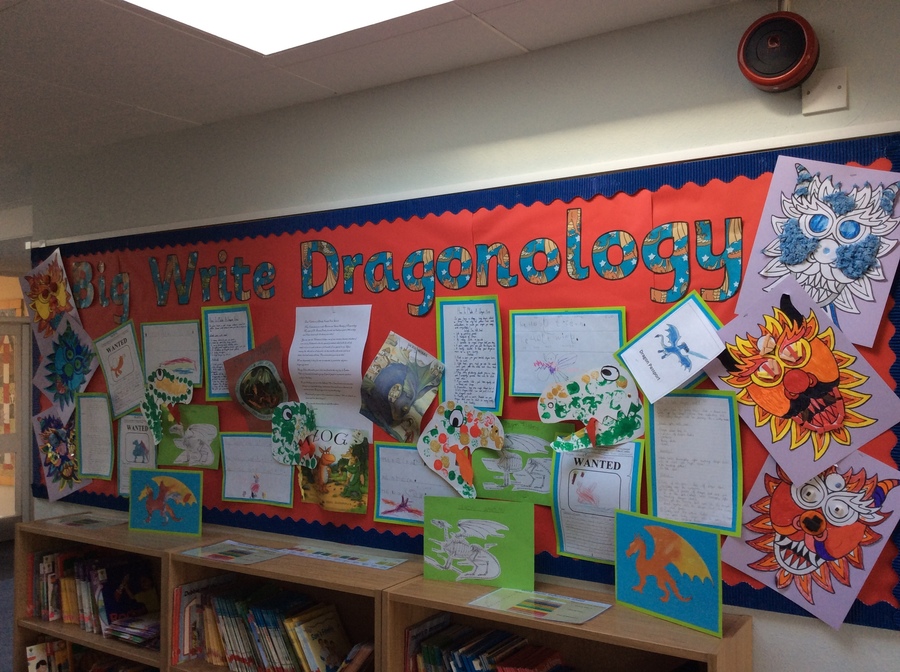 Spelling
This year, the teachers across all year groups are setting the children the challenge of improving their spellings. This challenge has come about for two reasons;
Teachers have noticed that children do learn their spellings for a test—but are not then applying them to their writing
The recent changes in assessment mean that children can not be judged as working at national levels unless they are spelling most of the words assigned to their year group correctly. (THIS IS PARTICULARLY IMPORTANT FOR OUR YEAR 2 CHILDREN).
Learning to spell is a highly complex skill but, in order for children to become successful writers, they need to be able to spell accurately. At ECFS, your child will be taught the rules and conventions of the spelling system as well as strategies needed to become confident spellers.
In Reception, Year 1 and Year 2, the children have daily phonic lessons where they learn phonemes and graphemes, spelling patterns and high frequency words.
In Years 3, 4, and 5, the children learn new spelling patterns as well as revising those already taught. Spelling is taught regularly each week where children look at phonics, spelling rules, root words, the meanings of words and other strategies to help spellings—such as mnemonics.
Teachers provide opportunities throughout the week for the children to practice and apply these rules. The children are tested on the spellings they have been learning and on words from their year group statutory lists. In addition to this, teachers model good spelling practice though their daily practice, across all subjects.
Mrs Brown has also introduced a computer spelling program called 'Spellodrome'. This is an interactive and versatile website which children can access both at home and in school. Children learn their weekly spellings through playing educational and fun games to gain points. When they have achieved so many points they will be awarded certificates for their persistence and achievements, these will be given out during Friday's assembly. Teachers have the opportunity to see what words children are getting correct and incorrect. This will help to target the problem areas. Teachers will be updating the word lists weekly and there will still be a spelling test to follow. We want to engage our pupils and to make learning fun and meaningful - and we feel this new software will help us achieve our goal.
World Book Day
Despite the weather, World Book day was a huge success! Thank you for such an amazing array of costumes. Lots of fun was had on the 'Where's Wally' hunt, there was a book lucky dip and we are still looking for those golden tickets in our library books! Each of the teachers has some time to share their favourite stories with the children. Also, we officially opened our new library in memory of two special people, Mrs. Hubbard and Edward Barker.
Enter text...
Meeting the needs of all children
When planning our teaching, we take into account the needs of children with different abilities and learning styles. For each lesson, we plan to cater for the needs of those needing greatest support as well as seeking to stretch the more able pupils. Teaching may be planned for individuals, small groups or the whole class.
During English and Maths lessons, we assess the extent to which children are meeting the objectives being covered. Where necessary some children may receive additional small group or individual support from teaching assistants. Children who lack confidence in Literacy or Numeracy, or those who need a little further structured input may take part in specific programmes.
The other 'Foundation' subjects in our curriculum are now more integrated with one another. This gives us greater flexibility in how we teach our lessons. It also gives us the opportunity to encourage the children to work together, share knowledge and skills and learn from one another. We try to incorporate a first-hand or hands-on experience into each topic to ensure the children have a more complete understanding of the world around them.
PE / Sport at Elmley Castle CE First School
At Elmley Castle CE First School, we recognise the contribution of PE to the health and well-being of our pupils. We believe that an innovative, varied PE curriculum and extra-curricular sporting opportunities have a positive influence on the concentration, attitude and academic achievement of all our children.