Reading and Phonics
Here at ECFS we believe reading is one of the most important aspects of the school curriculum. If we can successfully equip our children with the skills to read, then they will have the very best opportunity to succeed in all other areas of the curriculum. Dr Seuss once said 'The more you read, the more things you know, the more that you learn the more places you go'.
In KS1 we prioritise independent reading and we aim to read with your child/children at least twice a week. This is supplemented with class stories, group reading, paired reading and library sessions. We ask for parents to continue this at home, aiming to read their class reading books at least 3 times a week.
In KS2 independent reading is not carried out as frequent as in KS1 but isn't to say it is not as important. For most children at this stage, it is not learning how to read but more so learning to understand the content of which they are reading. Teachers assist in the choice of text for free readers to ensure they are benefiting from a wide range of genres, this may be a book from home the school library or the free reader section in the Elm class.
We use PM Benchmarking and the book band colouring system to assess our children's reading. Here is a simple breakdown of what level your child should be currently at and where they need to be aiming for next.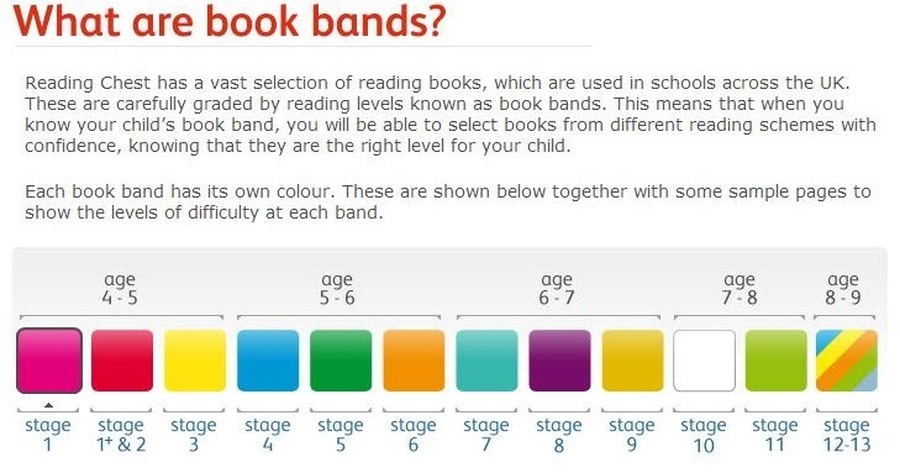 Shared Reading: Class Three have written and illustrated stories to read to Class Two
At Elmley Castle CE First School, we believe that reading and writing, supported by speaking and listening skills are the key to successful learning. All children have a daily English lesson where key skills are taught, developed and improved. These skills are then used in other curriculum areas.
Phonics and Spelling
We aim for all our children to develop a sound knowledge and understanding of letter sounds in order to give them the right tools for fluent reading skills. We use the Letters and Sounds phonic programme in the Early Years and KS1 and all the children have a daily phonics/spelling session based on this. Letters and Sounds teaches the children how to recognise sounds (phonemes) and build them to make words.
In the Early Years, children are taught to remember each of the letter sounds through story, action songs and a hand movements. We use a range of resources for this, to include, Jolly Phonics and Phonics Play.
If you would like to encourage your child to practice their sounds at home, check out the free games on the Phonics Play link below;
Speaking and Listening
At Elmley Castle CE First School, teachers enrich the learning process by teaching the children how to engage in exciting, dynamic and practical Speaking and Listening activities. This is a key part of our studies across the curriculum.
Experiences may include:
Discussions with Learning Partners, debate, drama, role play, circle time and many more.
Reading
Our aim is to enable every child to read. Throughout their time at Elmley Castle CE First School, the children will experience many different events and opportunities to read, such as World Book Day and Reading Challenges. We have a great library packed full of rich and engaging non-fiction books.
Children have unlimited access to a wide range of books and other reading materials. They are encouraged to read as much as they can.