News and Events
17.4.2020 updated 29.4.2020
Please find all relevant links and documents appropriate to support your child on their class page.
Home Learning
I hope you have all enjoyed a lovely Easter holiday so far in the beautiful sunshine. I also hope that home learning has been a positive experience for you overall. With three children at home myself, I understand how trying to navigate a new way of working from home and helping your children to learn can be tricky at times. However, please remember that however much or little you do with the children they are lucky to be home, safe and well with you- that is the top priority at the moment. Every one of us is learning to find a new norm in unprecedented times, all we can do is our best.
I read this wonderful article one evening whilst trying to go off to sleep. It talked of a generation that will have received a different kind of education. It's called 'What if..? by Steve Nawoor, here is a link: https://www.stevenawoor.com/whatif
With this is mind please be assured that all you are doing is 'enough'.
And you know this isn't forever. It is my sincere hope that this storm will pass soon and we can be together again. Part of the frustration is that we really don't know how long this could continue for. I totally understand that many of us need a structure to follow to keep us going in this uncertainty. To this end, I asked the class teachers to put together a topic plan based on the learning we would have done at school for the next half term and beyond. Please find their suggestions on the class page. Do as much or as little as you like and if you need any further guidance please let us know. It really is just there for you as a guide and to help with ideas. If it helps to have a purpose we, as class teachers, are very happy for you to upload your learning on the school's Facebook page or send us a picture via e-mail. We'd love to see what you do, but there really is no pressure! I will also keep updating the school Facebook page with ideas I find, so keep a look out! I have adapted the daily routine set out below to better reflect current circumstances. The newest resources out there that I highly recommend, with daily tutorials and activities that are age-appropriate and follow what we do at school are:
www.whitrosemaths.com/homelearning
BBC bitesize daily lessons
Here is an example daily routine for you to follow if you should find it useful:
Before 9am: Wake up, eat breakfast, get dressed and make bed.
9-10am: Youtube Joe Wickes PE daily, or yoga. I can recommend cosmic yoga videos on Youtube or BBC supermovers- we use these at school.
10-12: Academic time- use home learning packs mentioned above or highly recommended daily tutorials from Whiterose Maths, Classroom Secrets and BBC Bitesize. More are available on mathswithparents.com or https://pprimarystatseducation.co.uk/covid19.
12: lunch- get them cooking, baking or preparing meals with you
12.30- 1: helping with household chores- washing up, stacking dishwasher, wiping door handles etc.
1.30-2.30: quiet time- puzzles, reading, colouring, craft.
2.30-4pm: Academic time- A website with maths or spelling games, an educational show such as number blocks for younger children or a documentary for older ones. Learn a language on www.duolingo.com or start a topic project.
4-5pm: Afternoon fresh air- a game in the garden or walk near home.
5-6pm: Dinner
6-7pm: free time- watch a film together, play a card or board game.
7pm: bed time routine.
16.3.2020
Last night the government laid out new plans to tackle the spread of COVID-19. I wanted to update you with our response as a school and remind you of proper protocol in–line with the latest advice.
In order to optimise infection control effectiveness, we have made the decision to restrict any external visitors or visits to limit exposure. This means that the following services will cease for the time being: school trips, swimming lessons, staff training and conferences, governor meetings, church visitors, school trips, after school clubs such as drama and Spanish, sports coaches, guitar lessons, bikeability tutors, NHS reception screening and parent volunteers. We will negotiate with these providers as to how you can be reimbursed any costs or if missed sessions can be made up at a later time. We also ask that parents avoid entering the school building at all times, dropping pupils off and collecting children on the playground unless it is absolutely essential that you do come inside- please come via the office if you need to talk to staff or enter the classroom.
The government also made it clear that everyone should now be avoiding social gatherings. For this reason the following school activities will be cancelled until further notice: after school clubs (wrap around care shall continue for the moment), school church services (Easter service on 3rd April), toddler group, celebration worship or whole school daily acts of worship. We hope you will understand that this is in the children's best interests. We will be increasing the amount of learning time spent outdoors and will continue with daily worship in small class groups. Playtimes and lunchtimes will continue as normal.
The guidance on what to do should you become unwell or suspect you have the virus has also significantly changed. Anyone who now displays one or both of the 2 main symptoms (high temperature or a new, persistent cough) should self-isolate at home for 14 days. It is also important that the whole household self-isolate, not just the person with symptoms. They are no longer routinely testing for the virus unless admitted to hospital, so you no longer need confirmation of Covid-19 to self-isolate. More information on the virus can be found on the NHS website but you should now only call 111 if you are worried or concerned about your symptoms becoming worse. Those in our community who are in the vulnerable group (those with underlying conditions, pregnant women and those over 70) should also socially distance themselves.
At the moment the government is still not recommending blanket school closure, although that advice may change as the virus progresses. Please be advised that any decisions relating to individual school closures or blanket school closure are made by Public Health England and will be the decision of the government.
Should the school close, or should you and your family need to self isolate, we recommend a remote learning pack for you to access from home.
If you visit www.twinkl.co.uk/offer and enter the code UKTWINKLHELPS you will have free access to a wide range of educational resources and can find links to your children's current topics. They have created school closure home-learning packs for each year group. They have word searches, maths activities, reading comprehensions, spelling practice and STEM experiments for you to choose from:
Oak Class: https://www.twinkl.co.uk/l/xrh0w
Apple Class: https://www.twinkl.co.uk/l/qznc0
Elm Class: https://www.twinkl.co.uk/l/1bm381
We also recommend www.topmarks.co.uk, a great resource for all age on-line maths games. KS2 children can access Times Tables Rock Stars from home with their unique usernames and passwords. If you go to https://whiterosemaths.com/ they are developing some on-line tutorials and activities for all age groups.
www.https://www.phonicsplay.co.uk/ are also offering a free subscription at the moment. This is a great resource we use at school for those working towards the phonics screening.
Remember reading a wide range of books and writing a diary or story is always a great way to deepen learning and playing board and card games is good too. Practical activities such as baking, counting money and making junk models are fantastic learning experiences. If you want anything a little more active, I really recommend BBC Supermovers- the children love these songs and dances which have a learning focus.
You could go on a virtual museum tour and write a report or send a postcard about what you saw. This link could help. https://www.travelandleisure.com/attractions/museums-galleries/museums-with-virtual-tours.
How about writing a message and drawing a picture and send it to someone who is isolating?
Here is an example daily routine for you to follow if you should find it useful:
Before 9am: Wake up, eat breakfast, get dressed and make bed.
9-10am: Youtube Joe Wickes PE daily, or yoga. I can recommend cosmic yoga videos on Youtube or BBC supermovers- we use these at school.
10-12: Academic time- use home learning packs mentioned above or highly recommended daily tutorials from Whiterose Maths, Classroom Secrets and BBC Bitesize. More are available on mathswithparents.com or https://pprimarystatseducation.co.uk/covid19.
12: lunch- get them cooking, baking or preparing meals with you
12.30- 1: helping with household chores- washing up, stacking dishwasher, wiping door handles etc.
1.30-2.30: quiet time- puzzles, reading, colouring, craft.
2.30-4pm: Academic time- A website with maths games, an educational show such as number blocks for younger children or a documentary for older ones. Learn a language on www.duolingo.com or start a topic project.
4-5pm: Afternoon fresh air- a game in the garden or walk near home.
5-6pm: Dinner
6-7pm: free time
7pm: bed time routine.
Should you need more advice or need to contact the school please do so on [email protected]. I will continue to check this e-mail regularly, even throughout any period of closure.
If you would like any further information on Covid-19 and what to do, below are the government links and information telephone number which you may find useful. Of course you can speak to me anytime and I will update you with any new information we have as soon as it is given to us.
Regards
Nadia Underwood
Head of School
Department for Education Coronavirus helpline
The Department for Education coronavirus helpline is available to answer questions about COVID-19 relating to education and children's social care. Staff, parents and young people can contact this helpline as follows:
Phone: 0800 046 8687
Opening hours: 8am to 6pm (Monday to Friday)
Please note, we are currently experiencing high volumes of calls and apologise for any wait that you may experience. Your call will join a queue and we will answer as soon as possible.
Where to find the latest information
Updates on COVID-19:
Elm Class tempt you using their persuasive skills with some activities for half term
10 best things to do in and around Evesham and Pershore over half term (with a little persuasive writing skills)
By Elm Class (Years 3, 4 and 5) at Elmley Castle C.E. School
Bredon Hill/Elephant rock
You need to experience walking up Bredon Hill! As you journey up, your heart will race and there will be a feast for your eyes with the gorgeous views encompassing you along your journey to its peak. When you reach the top you will be treated to mind boggling views whilst the cool breeze runs through your hair. The long green grass gently swaying with sheep below grazing and seeking shelter from the sun in the shade of immense trees. The distance offers views of green fields and a tower standing proud and tall with its sandstone reflecting the golden sun. The perfect place to connect with nature.
St Marys Church, Elmley Castle
St Marys Church is just astounding! Come visit the magnificent, beautiful St Marys Church in all its glory. A historical building, a couple of hundred years old and is still very much perfect to us. St Marys Church really is a wonderful sight to behold. If you like peace and tranquillity and want to talk with the Lord come down to the Church in the heart of Elmley Castle. If you love God like us, this magnificent place is your home.
Regal Cinema (Evesham)
Do you like movies? Do you like historical architecture? Here is the place where the two worlds collide. Come on in, take a seat and be our guest. You can sit up high in our luxurious memory foam cinema seats ensuring your comfort throughout or sit downstairs where you will be waited on hand and foot, filling yourselves with tasty treats that makes our mouth water just thinking of them. This is truly an experience not to miss. The sound system and picture quality so spectacular that it entices you so much that you take every step and experience all the emotions of those on screen.
Queen Elizabeth pub
Are you tired of trying to find an idealic dog and family friendly pub? Go to the Queens. This family friendly pub welcomes all visitors including pets and everyone that comes through the doors are welcomed with a smile from the kind, caring staff. Take in the warm atmosphere after a hard day's work whilst enjoying award winning food and the option to enjoy the rays with their grand beer garden.
All thing wild
Go to all things wild. It is a fun family experience for all ages. Step through time with the dinosaurs. You will see dangerous, life size dinosaurs whilst being educated on their history. If living creatures are more for you, then they have them too. Snakes, tarantulas, birds of prey to excite you and beavers, tortoises and monkeys for you to coo at to name just a few. Your children will have the opportunity to play in the sand pit with a JCB, take off in their helicopters and whizz by in the go karts. So many fun things to do – We give this 5 stars and a huge thumbs up!
Broadway park/town
If you love parks, check out Broadway Park. It has amazing slides and a great spot for perfect family picnics and having fun. With a climbing wall and a football area the fun has only just begun. Broadway is a great place to be. A historical, quaint village with quirky shops and cafes to spend many a happy hour with your loved ones.
Tiddesley Wood
If you are an energetic person this is the place for you. Tiddesley woods, the most heart-warming place in the world, a woodland covered with beautiful flowers – bluebells, shining like gems on a crown; snowdrops, as white as a fresh cloud on a summer's day; daisies, with a centre with the heart of a sun. Birds tweeting, fresh air flowing and a scent of perfume from the flowers lingering in the air. Tall trees towering over you, offering a welcome break in the summer's sun. However, we believe autumn is the best time to go because you get to see all a glorious shower of scarlet-red, bright-orange and a warm yellow leaves gracefully falling to the ground.
Clive's of Cropthorne
Do you like scrumptious food? Well me to! You must go to Clives. The food is so nice it leaves you longing for more and you wait in anticipation until your next visit. Drinks as refreshing as a breeze on a mid-summers day. The play park will keep the most active of children content (it wore us out). Fruits lovingly picked at the peak of ripeness. Prove your intellect and cunning by completing the challenging yet fun amazing maize maze, can you escape?
Pershore canal
Fancy a nice peaceful stroll? Then you're in luck! Come to the Pershore canal where you will experience real relaxation. Feel the breeze running through your hair. Smell the flowers and watch the fish swimming beneath your feet. Everything blooms perfectly near the canal and its beauty will be sure to make you feel peaceful and unwind after a hard days work.
Enter text...
League-Topping Local School Celebrates in Style, February 2019
It is with great excitement that Elmley Castle C. E. First School reaches its 150th anniversary this year and is set to celebrate this great milestone with a series of community events.
Both the School and wider village community plan to celebrate the school's 150th anniversary in Elmley Castle style, blending traditional with more modern celebrations as the past meets the present.
"We have a lot to celebrate at this time. Elmley Castle C. E. First School is a happy, caring and supportive village school, with a family atmosphere and caring staff who know their pupils inside out. Our small classes (no more than 20 in any one class) coupled with excellent teaching have enabled us to achieve the highest academic standards in the whole of the county." Nadia Underwood, Head of School
Elmley Castle Church of England First School building was erected in 1869 to replace the previous site near the church, which was in a poor state of repair and had been outgrown. Since then, local families from all walks of life have begun their education here, from Reception through to Year 5, often following in the footsteps of their ancestors.
The youngest member of the Thornton Family (pictured), from Bricklehampton, is currently in reception at Elmley Castle C. E. First School at the start of her education. She follows in the footsteps of her Granny (pictured as a flower girl on the left of the picture, 1963-1969), Great Grandfather (pictured front row, centre, 1935-1942) and Great Great Grandfather (circa 1898).
Nikki Thornton, current Chair of the active PTA at the school commented, "We look forward to celebrating the continued success and longevity of this wonderful school, which has been part of the community for so long. Key events include Oak Apple Day on Friday 24th May, Elmley's Victorian Summer Fair on Saturday 8th June and finally the 150th Big Bash on Saturday 22nd June. We are reaching out to as many current and past pupils and parents as possible and encourage them to take part in these historic celebrations."
Current and past pupils and parents are invited to contact the school and PTA about the celebrations:
Friday 24th May - Oak Apple extravaganza. This is always a special event in the school calendar but this year it will be even bigger with a past pupils and staff reunion picnic lunch and maypole.
01386 710279
Saturday 8th June - Traditional Victorian Fun Fair with Carousel, Traditional Games, Sweet Stall and much more. 1pm – 4pm
Saturday 22nd June - The 150th Big Summer Bash. The 150th evening celebrations are being held in a marquee on Elmley Castle Cricket Field and includes Reception drinks, delicious canapes and two course meal, band and DJ. There is be a well stocked bar with all profit going to the School. Tickets are £50 and there is an opportunity to sponsor this unique event.
Hannukah, December 2018
We had a wonderful morning learning all about the Jewish festival of Hannukah. Tom and Aviv's mum came to tell us all about how their family celebrate. Thank you!
The Very First ECFS Oracy Award, November 2018
What an incredible afternoon! 18 children from Pre-School to Year 5 took part and I wished I had ordered 18 trophies. Every child performed with passion and clarity. Congratulations to Isobelle, our KS1 winner and Josie, our KS2 winner. Our highly commended awards went to Charlie and Ellie. Well done to all who took part.
Special Visitors Today, Thursday 8th November 2018
Special visitors today, helping us understand more about our topic 'People Who Help Us'. Very exciting!.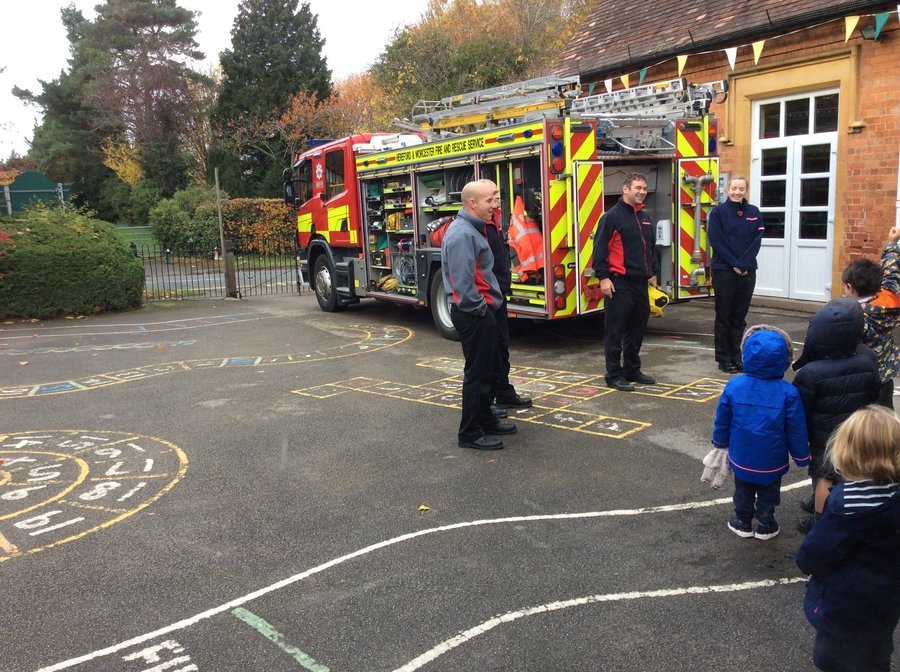 Open Morning Thursday 15th November 2018
Our Open Morning will take place on 15th November 9.30-11.30am.
If you would like to find out more about Elmley Castle C. E. First School and Pre-School, come and explore our amazing environment.
http://www.elmleycastle.worcs.sch.uk
01386 710279
October's Sports News 2018
We are very proud of both our hockey and football teams who recently took place in local tournaments.
We have also introduced a new weekly award for effort and achievement in PE, which was awarded for the first time to Lexi for her contribution in the hockey tournament and then to Will for his positive football Captaincy and for making so many great and fearless saves.
Hockey goals were scored by Harry and Lex
Football goals were scored by Liam and Albie
Excellent work from both teams.
October Harvest Festival 2018
What a lovely Harvest Festival. A great way to kick off Half-term. Well done to all our children and staff... just the Spooky disco to go!
Pre School and Reception New Outdoor Area, September 2018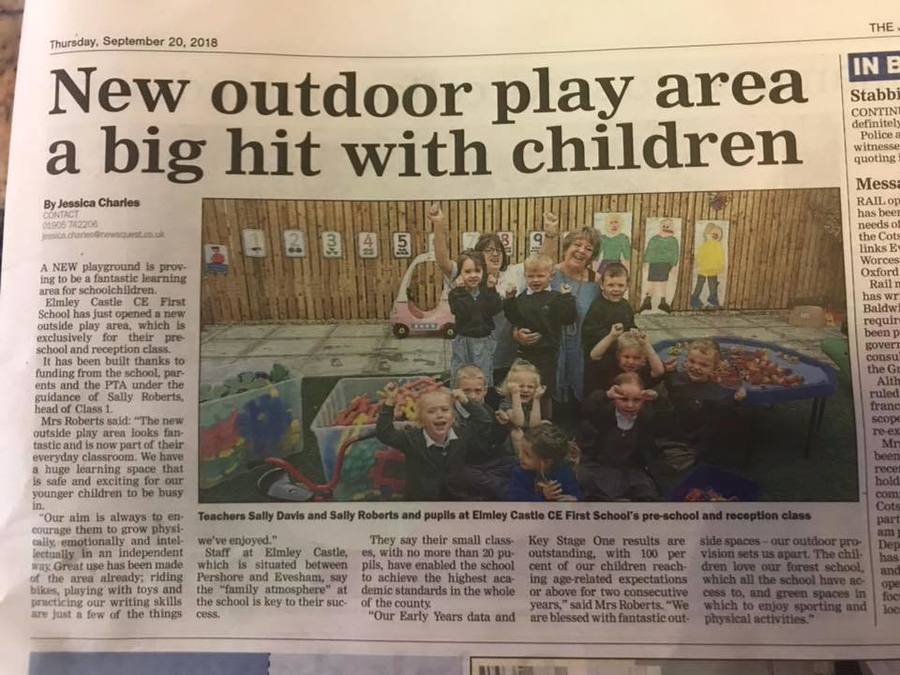 Is your child's homework causing conflict? (September 2018)
It's September, back to school and for many of us, homework battles begin again. Last September my son joined reception at his local village primary school in Elmley Castle. He's a typical boy, with constant excess energy and a short attention span. Although he settled quickly and his teacher said he was doing well in school, it wasn't long before I noticed he was aware of falling behind some of the others (mostly girls) in his year group. Although I tried hard not to make this an issue, we're both new at the homework game and even the simple tasks – like practising his key words and trying to work out what Kipper and Biff were up to – had become a battleground. I was frustrated with his inability to concentrate or 'try' to read the words, and his morale was being affected by an impatient mother, thinking that if he'd been able to sound out 'D A D', then he might be able to have a stab at 'Dad' and not proudly guess 'pineapple'.
Thankfully I started talking about it at school and received some wise words of advice from our new Head Teacher who, it turns out, is passionate about boys' learning. Girls have now been outperforming boys at all ages in education for over 30 years, and he believes strongly that gender plays a part in how children learn. It quickly became clear why they were getting more out of him at school than I was at home. However, his advice can be applied to any child – boy or girl – who might be resistant to standard study techniques.
Be concise about what you want them to do, when and how – some children aren't interested in the details.
Teach to their interests – if that means reading about sport or bugs or dinosaurs, do it!
Keep it short (10 minutes is ideal) and give him a definitive timescale. For example, tell him how many pages he must read, so that he has an achievable target.
Boys like competition. Try point scoring for every correct key word or spelling, for example. Perhaps a physical points chart on the fridge door will help him to see his progress.
Allow him to make choices about what he does and when, which should give him a sense of ownership and encourage him to be internally motivated.
If it's always you hearing him read, try to find a male role model to read with him on occasion, whether it be a Dad, Grandad or family friend. It makes a change, and he might try harder to impress.
Never make it a battle. Keep calm and take the pressure off when needed. Perhaps read together, taking turns to read each sentence, or offer to read the book for him some nights, with him pointing to the words if he's obviously too tired to engage properly.
Boys need reward, recognition and gratification. Sometimes this can be spontaneous. I found a simple announcement about how well my son had done to the rest of the family spurred him on to try harder the next time.
Be his biggest fan. He needs to believe he's worth it to succeed.
Lastly, remember that some children are just not ready to read or settle down to homework in their first few terms at school. Don't forget that in this country our children start school younger than in most of the rest of the world – the chances are, they'll get there when they're ready!
Fortunately, my son has landed on his feet in a small village school that not only has a male headteacher and obvious male role model but is a school with teaching methods that recognise that boys' learning is different from girls' and works to get the best results out of all their pupils. It can still be a struggle, but after implementing the advice, our homework sessions have become easier and the kitchen table is less of a battleground!
Mr Phil Croke is Executive Head at Elmley Castle CE First School.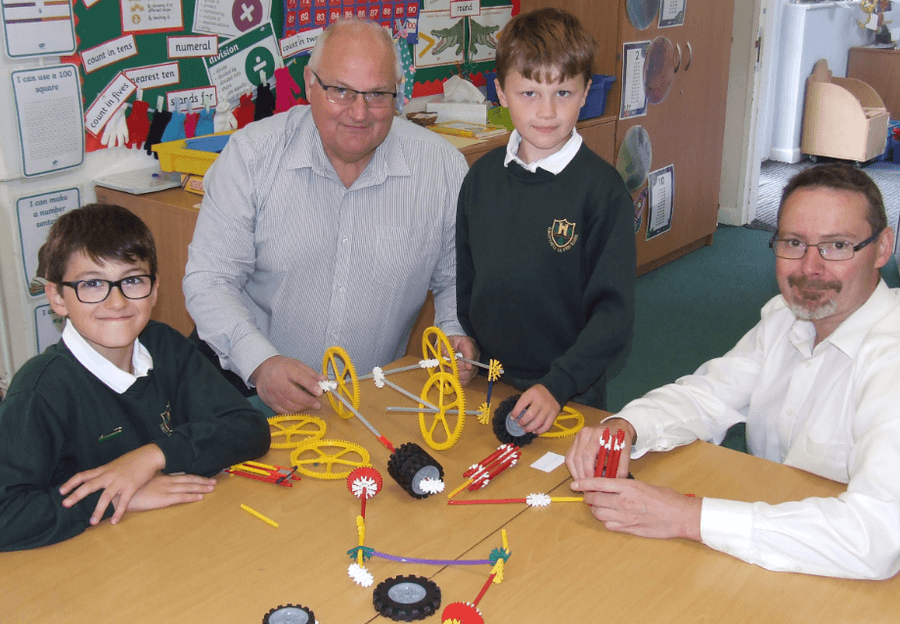 Outstanding EYFS and KS1 SATs data. Two consecutive years of success! (Summer Term, 2018)
Our EYFS data and Key Stage One SATs scores have been released and we are delighted to share the news.
Below is a table that shows how our children are performing against the national expectations in the Early Years Foundation Stage. In summary,
100% of our children reached a 'Good Level of Development' against 70.7% nationally (this is 2017 comparison as national 2018 figures have not
been releaseded yet). These figures are the highest achieving in the county.
EYFS - Good Level of Development (GLD) (in %)
| | | |
| --- | --- | --- |
| ECFS | National (2017) | Worcestershire (2017) |
| 100 | 70.7 | 69.5 |
We can also be very proud of our Key Stage One Results. As you can see below, 100% of our Year 2 children achieved the expected standard or
higher across all areas of their SATs teacher assessments, compared with 65% nationally. It is also important to note that the percentage of children
who achieved 'Greater Depth' is also well above national average.
These are also the highest achieving results in the county for the second consecutive year.
This year we were externally moderated by the Local Authority. This is a rigorous process which assesses the accuracy of our judgements. Our external moderator agreed wholeheartedly with our decisions and praised the school for its thorough gathering of evidence in support of our judgements
End of KS1 Teacher Assessment
ECFS EXS+

ECFS GDS

EXS+ National

(Emerging 2018)

GDS

National (2017)

Reading

8

100%

4

50%

75%

25.5

Writing

8

100%

3

38%

70%

15.8

Maths

8

100%

4

50%

76%

20.6

Science

8

100%

NA

83%

NA

RWM Combined

8

100%

2

25%

65%

11.1
Happy Memories from School Year 2017- 2018
Oak Apple Day is coming up again on Friday 25th May 2018 in Elmley Castle, so what's it all about?
Oak Apple Day was made an English public holiday, to commemorate the restoration of the English monarchy in May 1660. Although the public holiday was formally abolished in 1859, the date retains some significance in local or institutional customs. It is, for example, still observed as Founder's Day by the Royal Hospital Chelsea, which was founded by Charles II in 1681.
Traditional celebrations to commemorate the event often entailed the wearing of oak apples or sprigs of oak leaves, in reference to the occasion after the Battle of Worcester in September 1651, when Charles II escaped the Roundhead army by hiding in an oak tree. Anyone who failed to wear a sprig of oak risked being pelted with bird's eggs or thrashed with nettles.
This remains a firm tradition of Elmley Castle C of E First School and its villagers as the children celebrate Oak Apple Day annually in the centre of the village. The children crown the May Queen they have chosen and perform Maypole dances taught by local Julie Farr, ex pupil and Mum of Elmley Castle First School, who teaches the dances which have been past down from generation to generation.
The village school was built in 1869 and since then Oak Apple Day has been celebrated. It's a popular event with current and past villagers and visitors coming to enjoy an old tradition and bring back memories of when they were dancing around the Maypole.
Come and join us at 10am next Friday 25th May for our 2018 celebrations in Elmley Castle village High Street.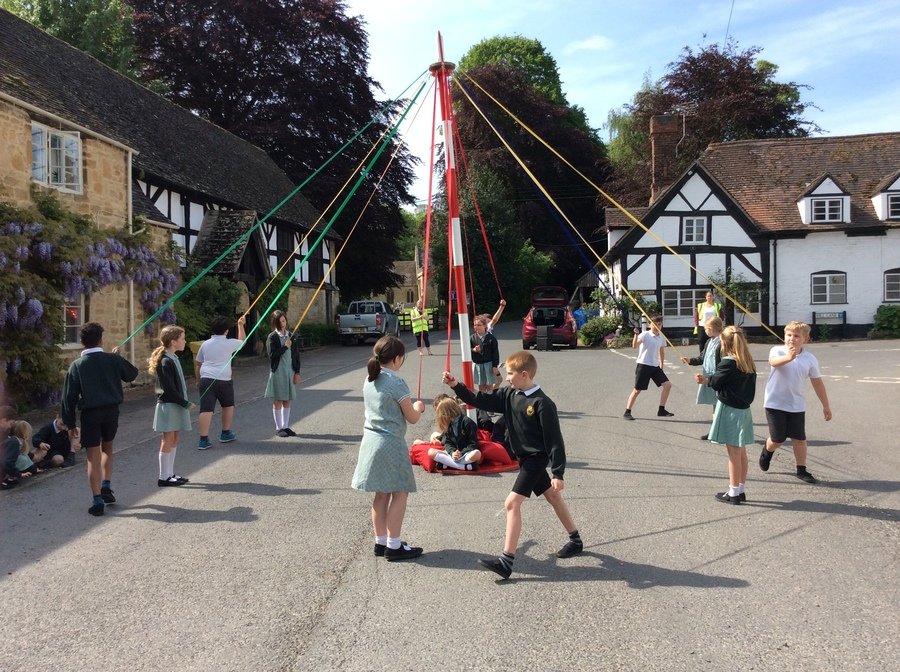 We've made Local News! Check out our article in the Evesham Journal! January 2018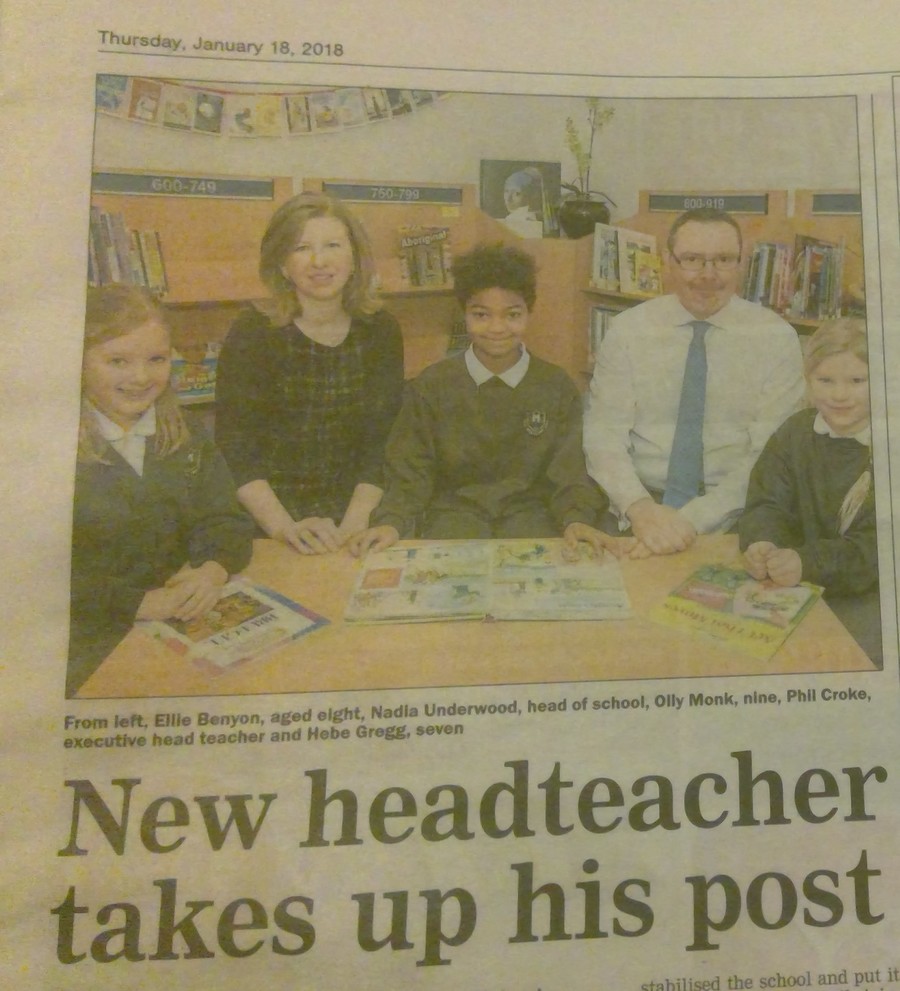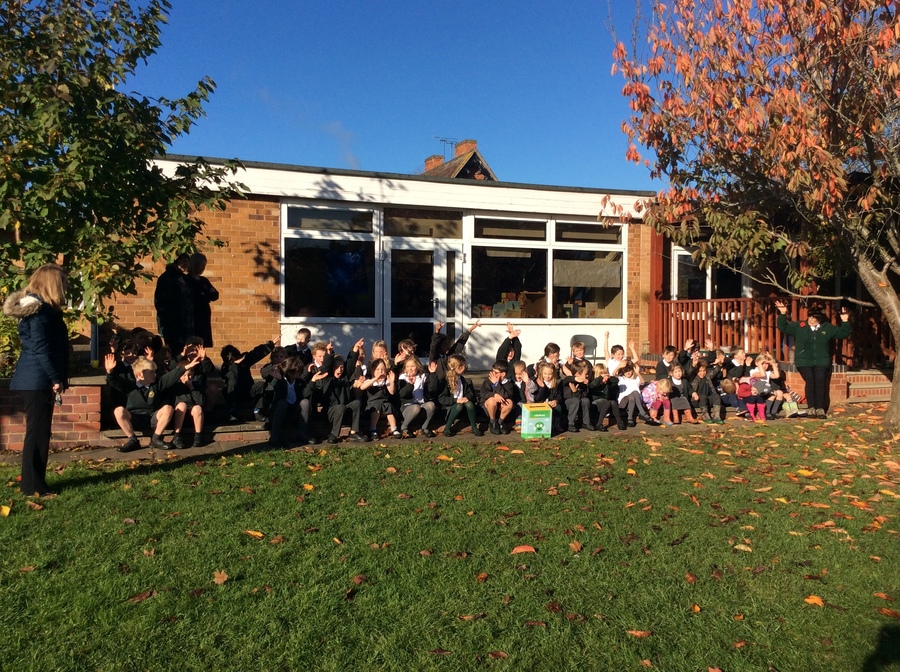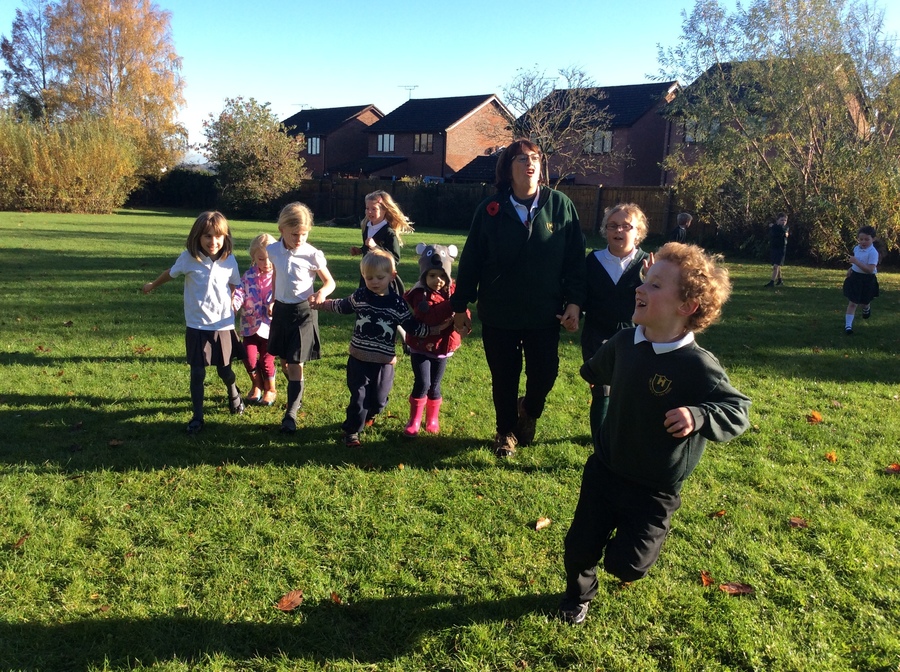 School Council raising money for Remembrance Day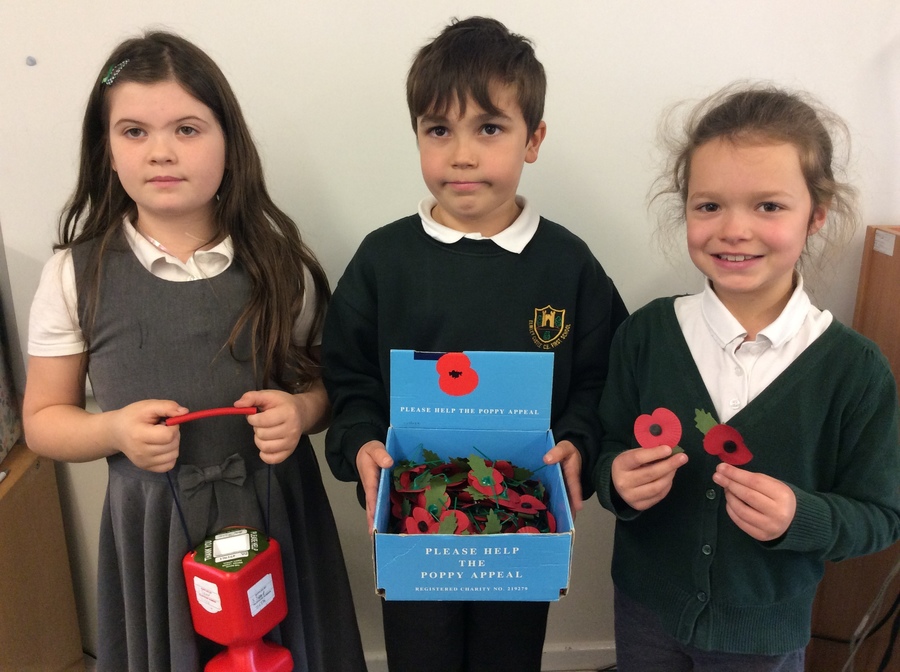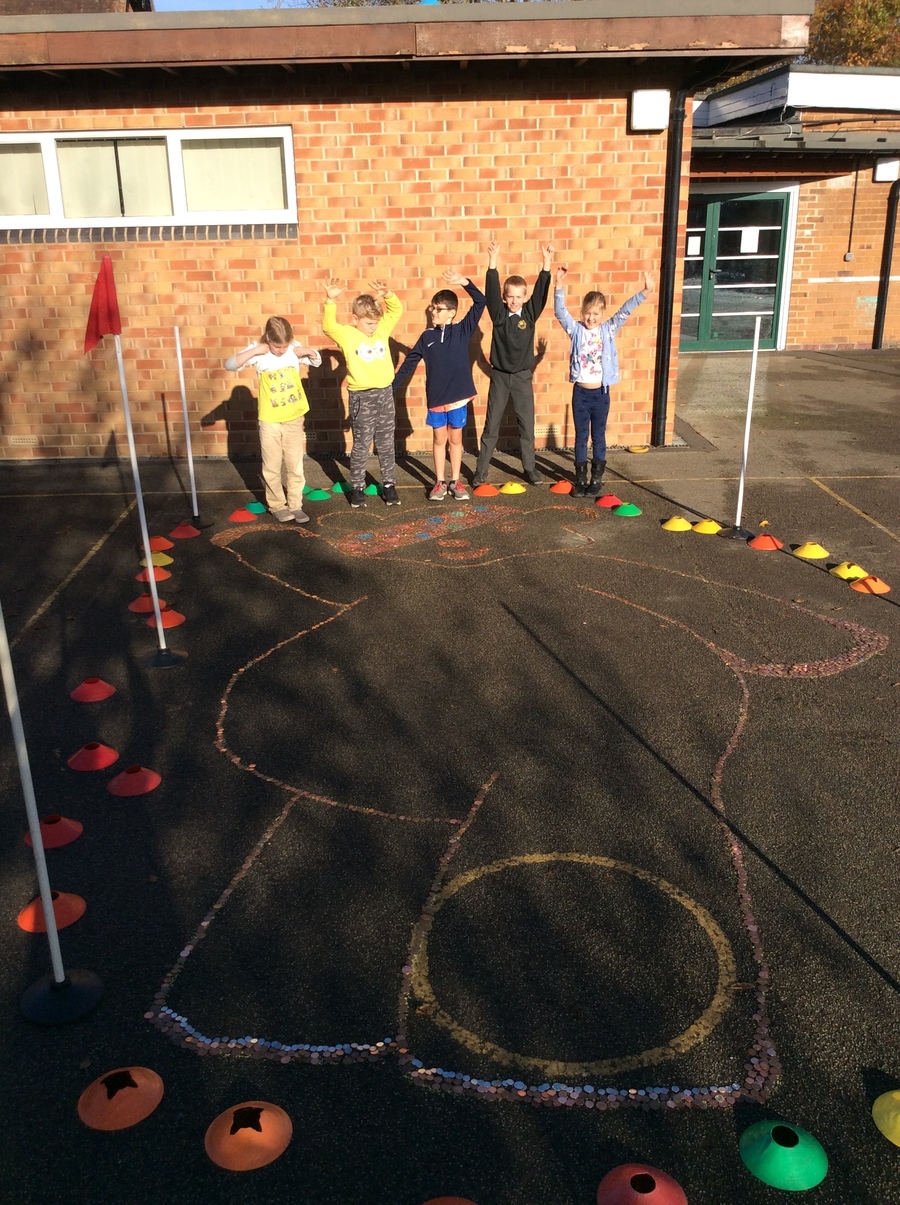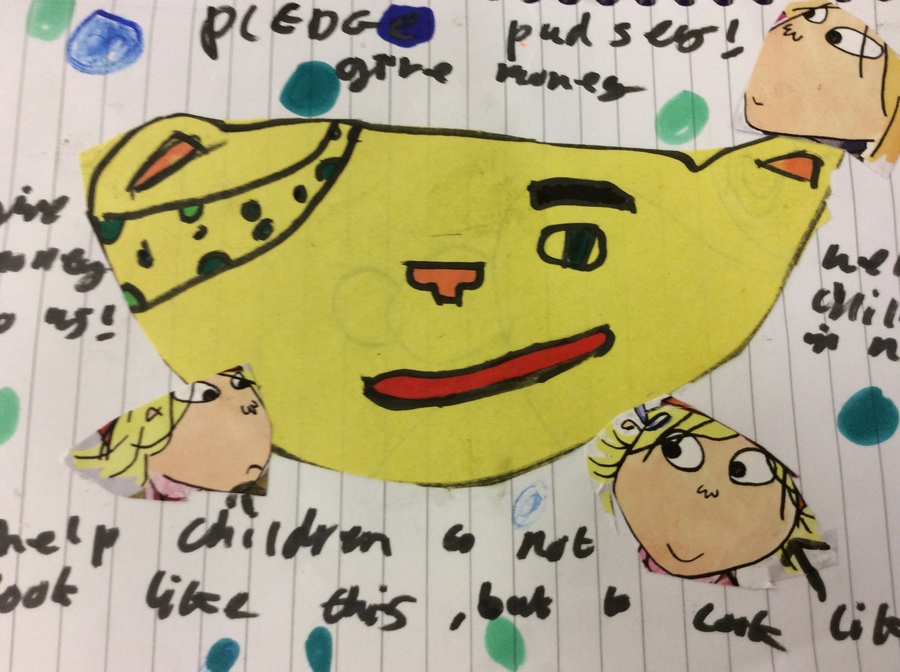 Bell-Boating 2.5.17
On Tuesday, the sun shone on Key Stage 2 as they spent a glorious morning on the River Avon. Our instructor, Jake, taught us the necessary skills to be a successful team at next month's bell boating regatta. We also learnt how a lock works and tried all sorts of tricks in the weir! The day was great fun but hard work and thankfully no-one got too wet. The children were a real credit to us and Mrs. Barker did an amazing job steering us all to safety.
Well done! Mrs Underwood.
Netball Tournament – Tuesday 14th March 2017
This year's Hi-5 Netball Tournament was held at Simon de Montfort Middle School. There were 5 other schools taking part and the Elmley Castle team of Gus, Daisy, Richard, Ruby, Bertie , Maddy, Liam and William, were put into League B. The first match was against Ashton and Elmley ran out comfortable winners at 3-0, thanks in no small part to Richard and Gus' accurate shooting! Straight afterwards the team were up against Eckington and they dominated the game with some good movement into space and great passing. However, thanks to Daisy, Elmley won their second game 1-0. After a 2 match rest, the final game was against Sedgeberrow. Once again Elmley were attacking well and had all the play in their own D! Unfortunately after a dozen or so attempts, the ball just wouldn't go through the ring! Even though the final game was a 0-0 draw, Elmley Castle were the winners of League B as they had scored the most goals!
Congratulations must go to the team, not just for winning, which is a terrific achievement but also for being great ambassadors for the school. I would also like to thank Mrs O, Sullivan and Mrs Gregg for the sterling job of transporting the children to the venue!
By Miss Bussey
2.3.17
WORLD BOOK DAY—20th Anniversary!
World Book Day is a celebration! It's a celebration of authors, illustrators, books and (most importantly) it's a celebration of reading. The main aim of World Book Day is to encourage children to explore the pleasures of books and reading by providing them with the opportunity to have a book of their own. We have had a lot of fun today at ECFS admiring each other's outfits—and talking about the characters they are dressed up in and our favourite books.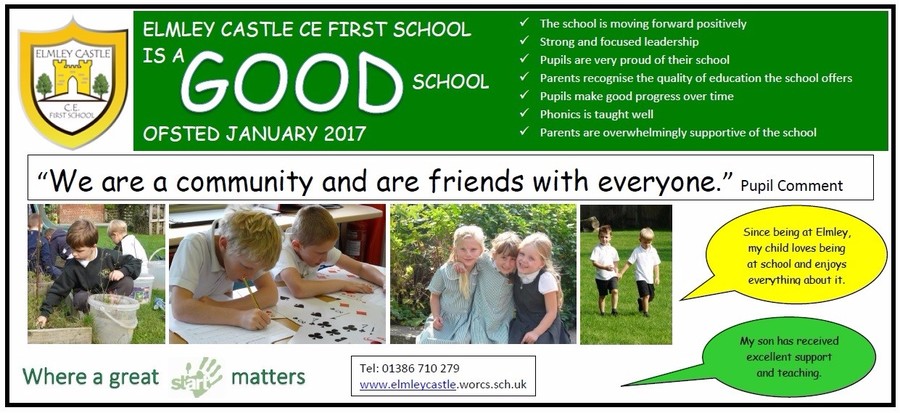 8.2.17
Ofsted
We received the Ofsted call at lunchtime on Monday 30th January and at 8am the following day, our inspector, Mrs Ann Pritchard, arrived.
Prior to her arrival, she had read through key school documents and looked at the school's data. She was very well prepared with a number of key lines of enquiry she deemed important to consider. She very fair and very pleasant the whole time - but she didn't miss much!
When Ofsted visit a good school for a Section 8 Inspection, they are primarily looking to answer two questions;
Is the school still providing a good standard of education?
Is the school keeping the children safe?
I am pleased to say that, by the end of the day, Mrs Pritchard was satisfied that the answer to both these questions was YES! If she had been in any doubt, she would have come back the next day with another colleague to investigate further. Happily, this was not the case here!
Much of what the inspector shared with Governors in the feedback session is confidential until the school receives the letter confirming the outcome, but there are a few things I am able to share with you. Firstly, the children. Mrs Pritchard was full of praise for all our children. She managed to meet most, if not all, during the day and she commented on how delightful they all were. She was impressed by how confident, articulate and positive they were about the school. A big well done to our children!
She was also very impressed by the large number of responses received from parents via the online questionnaire – 14 in total. This is a huge amount – almost all our families were able to complete the questionnaire and she said each and every one was extremely positive about the school. I don't think that would be the normal picture she would receive in other schools.Thank you all very much for taking the time to fill this in.
Mrs Pritchard also spoke to parents outside the school in the morning and to Governors during the afternoon. Everyone had positive things to say about the school. Your positive comments are one of the best things about this whole inspection for myself and for my Governors. To know you feel the school is now moving in the right direction is a massive affirmation for us that we are taking the right steps. And to have this confirmed by Ofsted as well is also very exciting.
Mrs Pritchard will now write the school a letter detailing the outcome. This will be checked thoroughly by Ofsted before I see it and have my chance to check it for any factual inaccuracies. The final draft is then sent to the school. At this point, I will be able to share the letter with you.
The letter will outline the inspection findings and the next steps for the school to work on over the next three years before we can expect our next inspection. We can expect that letter before the end of February. Hopefully before half term.